Special Hours During Yarn Crawl!!!
Thu -10am to 7pm Fri - 10am to 9pm Sat - 10am to 7pm Sun - 10am to 6pm
Outdoor Seating & Winding Station - Bring your spinning wheel, knitting, crochet, or any other crafting & join us in celebrating all fiber arts! We'll have a winding station where you can wind up a couple skeins to get you going and get you stitching right away! Don't worry, we'll have someone there to assist you and keep you going with complementary refreshments.

2016 Limited Edition Run Of Bangarang!
Available Through Our Online Shoppe Only! There Are A Limited Number Of Skeins Being Produced So Claim Yours Today!
Delicious Yarns Pop-Up Shoppe All 4 days of Yarn Crawl! Get the latest kit creations from Delicious Yarns!
SPA DAY RETURNS! Free Massage from 1pm to 5pm on Sunday! Scroll down to see full details for Sunday's Events!
The clean, modern designs and seamless construction of Tin Can Knits patterns can be enjoyed at every level. Check out knitted pieces from their collection Thurs-Sun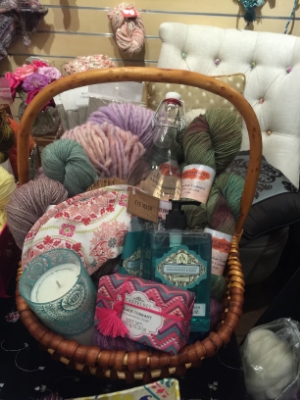 Thurs. - The Flying Kettle Mini Madness Give Away! Door prizes throughout the day. Win a collection of mini skeins by The Flying Kettle. Drawing for The Flying Kettle grand prize basket at 5pm
Fri. - Indie Dyer Extravaganza Give Away! Throughout the day, skeins from many of The Altered Stitch's family of Indie Dyers will be given away via surprise random drawing. At 8pm on Fri we'll draw the ticket for our Grand Prize of the evening.
Sat. - Saturday Super Giveaways: Drawings for door prizes throughout the day; drawings for second, first, and grand prizes at 6pm
Sun. - Spa-riffic Give Away! Drawings for door prizes throughout the day. Drawing for the Grand Prize is at 5:30pm
Trunk Shows:
Tin Can Knits: All 4 days of Yarn Crawl!
The Flying Kettle - Meet & Greet on Thursday & Friday 12pm to 5pm.
Zen Yarn Garden Saturday & Sunday
Meet the dyer! Joyce of The Flying Kettle will be in store from 1pm to 5pm to attend to all of your Flying Kettle needs! If you're in love with The Flying Kettle's yarn, then you won't want to miss grabbing up one of Joyce's extra large MONGO skeins. Mongo skeins will be available in many of The Flying Kettle's most popular colorways. Guess what?!? Bangarang! is back for the crawl, but it's coming to you in a completely different way and quantities are limited!
Friday will be a BIG day for give aways at The Altered Stitch! There will be surprise grab bags won by random drawings from Noon to 5pm.*
Very Merry Un-Birthday Party! 6:30-8:30pm
Take a dive down the rabbit hole with us and enter the world of Tim Burton's Alice in Wonderland, where down is up, left is right, and flowers can talk! You only get an Un-Birthday 364 days of the year, so honor one of yours by partying with us and some amazing yarn and fiber.
Wonderland inspired cupcakes and drinks will be served.
Mad Hatter top hats or other crazy accessories are encouraged but not required!
One of our BIGGEST give aways this Yarn Crawl! We've put together a SWEET basket of goodies including amazing hand dyed yarn from our family of fab indie dyers including Republic of Wool, The Flying Kettle, Texas Dyed Wool, and many more! You'll also get knitting needles by Lantern Moon,as well as stitch markers and other notions! Friday's Grand Prize will be given to one lucky raffle winner during our Grand Prize drawing at 8:00pm. (*All winners must be present to win.*)
12:00pm - Learn to make Pom Pom accessories during a make & take using Loome products with Christina
3:00pm - Learn to make tassles during a make & take using Loome products with Christina
Sunday is our SPA themed day! Relax and rest with us as we close out the 2016 L.A. County Yarn Crawl by kicking back with friends for Tea Time (or coffee:) & treats at our Mad Hatter's Tea Party! We will also be offering FREE massage from 1pm - 5pm!!! Ahhhhhhhh.
From 10am to 2pm the folks from Griffin Dyeworks will be hanging out in the back with us to demo spinning, weaving, natural dyeing, and embroidery! Bring your wheels, spindles, and looms to join in the fun!
Zen Yarn Garden Trunk Show - meet & greet / color pairings with local featured designer and Zen Yarn Garden Specialist, Suzanne Nielsen. *meet & greet from 1pm to 6pm.
Pssst...We have one more Spa-riffic day packed full of give aways on Sunday! We've got several fabulous door prizes and one lucky winner will cruise on out of Yarn Crawl with a fully loaded gift basket featuring spa & luxury themed prizes. The Spa-riffic basket includes luxury bath salts, bubble bath & hand cream. Also included are many skeins of 100% cashmere, silk, and alpaca yarns, Lantern Moon knitting needles, and Soak. You've got to be present to win, so you've got a perfect excuse to wrap up the Crawl at The Altered Stitch!
Demos / Make & Take schedule for Yarn Crawl!
Saturday
12:00pm - Pom Pom accessories make & take using Loome products with Christina
3:00pm - Tassles make & take using Loome products with Christina
Sunday
10am to 2pm:
Griffin Dyeworks will be giving demos in Spinning, weaving, natural dyeing, & embroidery
Get Your Passport!!!
The 2016 LA Yarn Crawl Passport is NOW available for download! CLICK HERE to get it!
Pre-Order Your 2016 Yarn Crawl Tote! SOLD OUT!